I've been very crafty in the past two weeks. I've been honing my sewing skills with making burp cloths and matching teething necklaces. I am now moving on to making baby butt ruffles.
My baby girl set
My first butt ruffles
Burp cloths and teething necklace
Personalized gift
I also made a really good chicken Marsala. I didn't know how it would turn out so I didn't take pictures as I went and it was so good that I didn't take pictures before we ate. All I can show you is my left over sauce. I quadrupled the sauce because last time I made it we ran out of sauce. I am including the recipe. (just so you know I'm making more chicken tomorrow so we can have left overs. because it was SOOOO yummy.
Ok so since my looks so icky there I'll steal some off of the Allrecipe.com site. It's from the same recipe I just added stuff as can be seen in my modification section.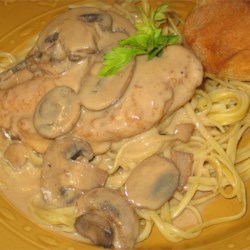 My improvements
- Season chicken before putting in flour with black pepper (I used fresh ground), dash of ground red pepper, Italian seasoning, pinch of salt, dash of parsley. Whatever you have left in the way of seasoning and be added to the above amounts in flour.
- Take the chicken out after browning it and set aside so the breading doesn't get mushy. (just make sure it's cooked through but if you pound it I promise it will be cooked)
- At least triple the sauce if your having it over pasta.
-Thicken with corn starch water slurry if eating over pasta so it coats your noodles
- Add fat free half and half at the end (or regular if you don't mind the calories)
- I put I can't believe it's not butter to add flavor at the end. (use about a table spoon)
If you make it let me know how yours turned out.