Surprise! Two posts in one day. Wow!
For lunch we had
Greek Pizza.
I actually made is as prescribed except I put some black olives in it too. It was really good. The Baron was upset when I only let him have three pieces. It was a nice start to no meat. I get the feeling it will make a few rotation in the 40 days. O I just realized I forgot to put the onion it it. Ops. It was great even without it.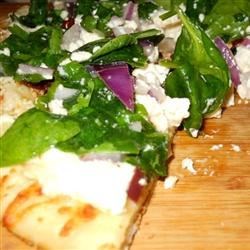 Greek Pizza with Spinach, Feta and Olives
Ingredients
1/2 cup mayonnaise
4 cloves garlic, minced
1 cup crumbled feta cheese, divided
1 (12 inch) pre-baked Italian pizza crust
1/2 cup oil-packed sun-dried tomatoes, coarsely chopped
1 tablespoon oil from the sun-dried tomatoes
1/4 cup pitted kalamata olives, coarsely chopped
1 teaspoon dried oregano
2 cups baby spinach leaves
1/2 small red onion, halved and thinly sliced
Directions
Adjust oven rack to lowest position, and heat oven to 450 degrees. Mix mayonnaise, garlic and 1/2 cup feta in a small bowl. Place pizza crust on a cookie sheet; spread mayonnaise mixture over pizza, then top with tomatoes, olives and oregano. Bake until heated through and crisp, about 10 minutes.

Toss spinach and onion with the 1 Tb. sun-dried tomato oil. Top hot pizza with spinach mixture and remaining 1/2 cup feta cheese. Return to oven and bake until cheese melts, about 2 minutes longer. Cut into 6 slices and serve.